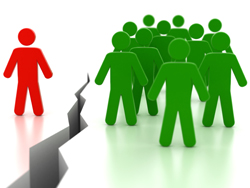 Effective leadership is critical in any organization. When owners,  executive leadership, or managers lack the ability to provide direction, coaching and training and motivation for staff, the organizational culture and morale often suffer. Bad leadership can lead to four very bad outcomes for the organization – regardless if it is a "for-profit" or non-profit organization.
Outcome #1: Poor Results
Neil Kokemuller once wrote that a "tangible result of poor leadership is often poor financial results and goal achievement. To optimize production, sales and efficiency, a company needs employees committed to their jobs, the company and its vision. Poor leaders don't inspire workers to deliver their best performance and to look for training and development opportunities. In the long run, a culture of poor leadership perpetuates across a company at all levels." Unfortunately, many in leadership positions do not understand this, or they are unwilling to consider this. A very bad sign of poor leadership.
"If your actions inspire others to dream more, learn more, do more and become more, you are a leader." John Quincy Adams 
Outcome #2: No Cooperation
Another bad outcome of poor leadership is no cooperation, according to Kokemuller. He states that "poor company and departmental leadership also inhibits the development of " cooperation, or synergy. Managers that are effective coordinate tasks within their departments and promote an atmosphere that encourages idea sharing and discussion. "They get employees aligned in the pursuit of shared goals. Poor management may result in more fragmented departments and work roles. This means that each employee neglects the importance his work plays in achieving company and departmental objectives."
"Cooperation proves the quality of leadership". James Cash Penney 
Outcome #3: Low Morale
Low morale is another possible consequence of poor leadership. This can result from employees feeling misdirected or uncertain about the company and their jobs. Poor communication adds to this issue. Overly critical managers may disparage or debilitate workers who commit errors yet need to succeed. In some cases, failure to handle negative employees or poor performers can, and does in many cases, result in low morale. Thus many good employees usually have to be compelled to pick up the slack.
"When you hear a lot of talk about it (morale), it's usually lousy." Dwight D. Eisenhower 
Outcome #4: High Turnover
A culmination of ongoing poor leadership is high employee turnover. Workers who aren't motivated and are burned out from a poor culture begin looking for other jobs. "This further escalates profitability concerns for the business." This downward spiral is often difficult to get out of since companies struggle when they lose top performers and experienced employees and must replace them with new hires. Even those employees who stay get frustrated at the loss of familiar coworkers and friends.
"Understanding your employee's perspective can go a long way towards increasing productivity and happiness." Kathryn Minshew 
Have you experienced any of these outcomes? Would you add others to this list? Do you agree or disagree with any of the four outcomes? I welcome your comments.